Knoxville, TN Premier DUI Criminal Defense Attorney
Attorney Who Defends Clients Facing DUI and Criminal Charges Throughout Tennessee.
IMPORTANT SAFETY ANNOUNCEMENT
REGARDING PANDEMIC THREAT©
As it has always been, the safety and security of our clients remains our highest priority. We take great pride in maintaining the highest standards of cleanliness and hygiene. In response to the coronavirus, we have taken additional measures developed in consultation with public health authorities to make our cleaning and hygiene protocols even more rigorous. Our assistants are receiving ongoing briefings and enhanced operating protocols, the Cleaning Crew has increased the frequency of cleaning our public areas (including lobby, door handles, bathrooms, conference rooms, meeting rooms, library, etc.) and have continued the use of hospital-grade disinfectant. We have increased the availability of antibacterial hand sanitizers throughout the lobby, conference rooms and inner offices. We have crafted a path to provide assistance to our clients and visitors, and we are prepared to act swiftly should we be alerted to a case of coronavirus at our law firm. Continue reading..
Skilled Knoxville DUI Criminal Defense Attorney.
If you are under investigation by the police, or believe that you may be facing criminal charges, it is critical that you consult with an experienced Knoxville DUI criminal defense lawyer immediately.
Police officers are trained to use techniques to techniques to having you into voluntarily give up your valuable statutory and constitutional rights. For example, they might tell you to do field sobriety tests. These are voluntary and not compelled. Some police have been caught telling suspect lies; others have used ruses or subterfuge or trickery to get you to do or say something against your best interest.
Under no circumstances should you speak with law enforcement without an attorney. Don't do their work for them!  You should always contact a skilled Knoxville DUI criminal defense attorney immediately, so that measures can be taken to protect your constitutional and statutory rights and your freedom.
Remember Tennessee drunk driving laws are complicated, the penalties are severe. Don't trust your future to just any Tennessee DUI defense lawyer make sure you select the right DUI attorney that will fight for your rights and protect your future.
When Your in Need Of an Experienced Tennessee Criminal Defense Attorney Look No Further.
Mr. Bell is a veteran Tennessee criminal defense attorney and personal injury lawyer, having tried to verdict more than 1,000 contested cases. Over the course of those many contested trials, Mr. Bell has argued his client's position before Chancellors, Administrative Law Judges, Trial Judges (without jury) and citizen juries, on the local, state, federal, and appellate level.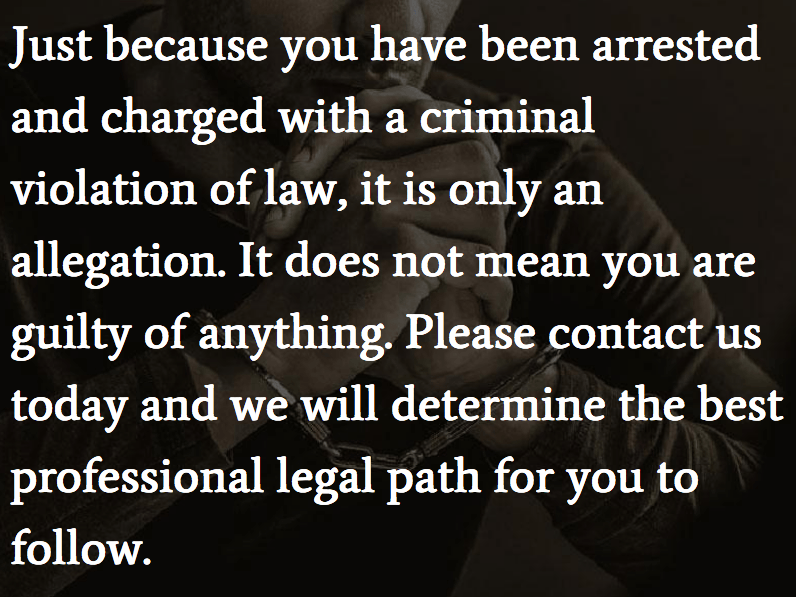 Do not put your future at the disposal of a state prosecutor or a police officer who has already made the decision to prosecute you. They may have overlooked your defense. They may have ignored evidence favorable to you. They may not know the rest of the story. They may not have properly tested the evidence, or preserved it. We are very experienced in getting this information out in front of your case to avoid legal calamities.
The experienced criminal defense attorneys at the Law Offices of James A.H. Bell, P.C.  know the law and will represent your interests in any situation:  from sex crimes to driving under the influence; from white collar crimes to drug possession.  The Law Offices of James A.H. Bel, P.C. handles federal crimes, sex crimes, and administrative licensing trials. If you have been accused of any crime, be it domestic violence, probation violation, burglary, or any other crime...we CAN help you.
We strive to be different from other criminal defense firms. Our top priority is to be there for you when you need us – 24 hours a day, 7 days a week.  If you or a family member are accused of a crime and/or are under police investigation, time is of the essence and every moment counts.  Our firm has a history of preventing criminal accusations from turning into formal charges by heading off the criminal investigations early.  While it does not happen in every case, we are often able to do this by moving quickly.

Experienced Dedicated DUI Criminal Defense Legal Team
Legal Crisis Resolution
At the Law Offices of James A.H. Bell, P.C. we have had a long and successful history of resolving legal crisis that suddenly develop without warning or notice. What is unexpected and catastrophic for you, is just as routine business day for us. There are not many situations that we have not successfully encountered. Let our vast experience contend with your legal problems.
In just the past few months, we've contended with a number of legal crisis on behalf of our clients. Here's just a few examples of some of the situations that we have resolved in the recent past on behalf of our clients:
The feds enter a business and search for computers and records and you are an executive employee of the business.
An automobile accident and you are suspected of vehicular homicide.
A seizure of your personal computer and the authorities believe there is child pornography located therein.
Finally, there is the "target" letter from an Assistant U.S. Attorney advising you that you are the subject matter of a federal investigation or law enforcement officers appear at your home or business wanting to question you about a criminal matter. No charges have been filed.
These are just a few examples of the situations that our clients have found themselves in and they all ask the same question: What in the world am I to do?!?!
The answer is simple and obvious: hire an experienced criminal defense trial lawyer before the charges are filed. It is inexpensive compared to the cost of a defense once charges are filed. Lawyers in our office have the communication skills and the assistance of a full time on staff investigator to resolve the matter by entering into discussions with the prosecution to induce them to decline the prosecution, or enter into a resolution that would be a less than what would occur if charges are filed. This latter resolution is called charge bargain.
Moreover, when the prosecution knows that you have hired a firm with a long history of trying cases, such as ours, they may reconsider their position. That factor may be the salient point in your favor to make the investigation "go away" or result in a very favorable resolution for the one being investigated.
Our attorneys are highly skilled and highly trained criminal defense team with an outstanding track record defending those that have been arrested and accused of DUI and other criminal charges both in Knoxville TN and thorough out Tennessee. With our skilled team of dedicated criminal defense lawyers we have personally represented thousands of clients charged with DUI and other criminal matters and we are well known for consistently obtaining extraordinary results for those accused of driving under the influence and other criminal charges.
Know The Attorney You Hire to Protect Your Future
Meet Our Experienced and Dedicated Team Of Professional's
If your in need of skilled legal council look no further call us today and schedule your free consultation 865-637-2900

Tennessee Personal Injury Lawyer, Knoxville Auto Accident Attorney and Accident Injury Law Firm in Knoxville, TN
The personal injury lawyers at the Law Offices of James A.H. Bell, P.C. are highly trained and experienced attorneys who will fight for for your rights. Regardless of whether you were involved in a minor car accident , or due to someone else's negligence has resulted in the passing of a family member, we know this is the biggest case of your life.
Our website provides clear-cut and valuable information so that you can be a intelligent consumer. Most important before you decide to talk to an insurance adjuster or sign any forms in your injury or wrongful death case you should consult with an experience personal injury lawyer. While browsing through our website, you will see that it is packed with answers to the most common questions based on 40 plus years of experience that we have been representing clients and their families that have been injured in accidents, just like you.
What some of our happy clients have to say.
Attorney James Bell was the best choice for handling our injury case. The insurance company did not realize the professional investigative legal work that Mr Bells law firm was able to discover and bring forth. From beginning to end our expectations were exceeded by the great work of Mr Bells staff. He won us an initial monetary award far beyond our expectations and thanks to their diligent work, we will continue to receive checks every month for ten years.

A Bell


3/13/2020

The Law Offices of James A.H. Bell handled a civil case involving a horrific wreck in KY caused by bad driving and inattention on the part of a commercial truck driver that totaled my car and injured my teenage daughter. The expertise and knowledge applied by the firm and the very professional handling of the negotiations resulted in a settlement that paid for my daughters full recovery, replacement of my vehicle, and a year of my daughters college costs. Our family was extremely satisfied with the outcome and attention to detail afforded to our case by the firm. After this experience, I consider the law offices of James A.H. Bell my primary provider of legal services. - Lucian Maxwell, Knoxville, TN

Dennis Miller


3/13/2020

If you need an Attorney, look no further than Mr. James Bell. He is the Best. The Best of the Best. If I could I would give him 10 stars. When I called him, he listened to every word I said. He got right on my case and called me back the very next day with my best options. I was overwhelmed with his professionalism, his quick response to my every call, and his calming words. He went above and beyond multiple times for me. As a company owner I have a hard time recommending almost anyone these days, but I would recommend Mr. Bell 1,000 times over. If you want the best Attorney that will fight for you, this is the man to call. There are no words to describe how thankful I am to him. Sincerely, Travis Young

Travis Young


3/09/2020

Mr. Bell and his associates are amazing at what they do. They were incredible throughout the entire process with us, and gave us the best outcome we could've hoped for! They were very accommodating with our circumstances, and Mr. Bell has the ability to put your mind at ease and make the best out of your situation. We can't thank them enough for everything they did for us!I highly recommend Mr. Bell and his office for any legal needs you have!

Leah Ray


2/18/2020

Mr. Bell and his entire team treated me like family. We all have situations we need extra help with, and Mr Bell puts you at ease, makes you feel at home and at ease, and quickly gets the job done with a positive outcome. As a huge bonus, either Mr. Bell or his paralegal, Cody were always available to talk with me or return emails.If you need any legal assistance in East Tennessee, Mr Bell should be your only call. He is well experienced, very well connected, and has a history of winning.I cannot day enough about my positive experience with Mr. Bell and his team-they were a blessing to me during a challenging time.

Heather Wheelock


2/10/2020

I've been dealing with the James Bell Law Office for nearly a decade & I just can't say enough about how great he & everyone on his team is. Truly amazing people. Friendly, honest, & knowledgeable to an incredible degree. They will fight for you relentlessly & they always go above & beyond to make you feel comfortable, confident, & well informed every step of the way. I wouldn't even consider hiring any other attorney from any other firm.

D. Mason Moore


2/08/2020

I will be forever grateful to this whole law firm. And what they did for me didn't cost me a dime. They calmed me. They treated me like family. I got some of the best damned advice I've ever gotten. I won't ever even think about hiring another lawyer other than Mr. Bell and his team.

Brandy Stills


2/05/2020

Did everything I asked and more, best lawyer around. Mr. Bell and his awesome team do everything they can in order to get the best results.

Hayden Clayton


1/03/2020

Everyone at this firm is so hopeful and incredibly nice. Attorney Jacob Feurer, whom I worked with went well above and beyond. Very clean, precise, intricate, and professional man who did everything in his power to win my case. We won, And he took every step necessary to make it nice and smooth for both parties. I would highly recommend this office. Jim has an incredible staff, Sam whom works from desk is super sweet and helpful. James (Jim) himself is a very kind man who truly wants the best outcome for his clients. He told me to trust his team, and that I was in good hands. Little did I know I was in hands of some incredible people. The office manager Lori, is the sweetest person you could ever meet. She cares about clients in a respectful way that makes you just feel welcomed. I highly This office to anyone! I promise you won't regret your decisions about picking this firm. They get the job done accurately & In an amicable way!

Britny Jenkins


12/09/2019

Another review called Mr. Bell a magician, and with that I have to agree — though I am sure he would just call it doing his job. And that is what separates him from other attorneys; he ACTUALLY does his job. To say that Mr. Bell goes above and beyond is still an understatement. I had a few charges against me and within no time it was like nothing ever happened. Mr. Bell makes a courtroom feel like your living room with how comfortable he makes you. Upon meeting him you can just feel that he is a genuinely good man who wants the best for you, and such an attitude trickles down to his staff. Give Lori, Sam, or anyone else a call and you will swear you are conversing with a longtime friend. No one person should go unrepresented in court with this law firm in existence.

Tee


12/03/2019

I met Mr. Bell and his defense team in 2017 and hired him to defend me in an extremely complex white collar case. Mr. Bell, his staff, and other members of the defense team involved with my case were very extremely professional and compassionate through out the entire process. The legal process was very complex and something I had no experience with. Mr. Bell and his team made everything much easier to understand and were always willing to answer my questions at any time. My outcome on the case was much better than I could ever hoped for. I will be forever thankful.

Barbara Butler


11/15/2019

James and his excellent staff can't be beat. James is not only very competent and friendly but really knows how to negotiate with his peers in the local law profession. I am indebted to him for a job well done. Highly recommend him and his awesome crew ! -W. Garrett

songwrecrd .


11/13/2019

There is a reason you don't see Mr. Bell law firm advertising on TV or signs. Those guys look at you with dollar signs in there eyes. Mr. Bell and his staff look at you with a caring concern. Complete professional and do not hesitate to retain him. I'm completely satisfied with this law firm.

Richard Shaft


10/15/2019

While driving home from a local park, my parents were involved in a terrible automobile accident. They were both rushed to the hospital with severe injuries, and three days later my father passed away—a loss that devastated all of us. In addition to everything else, my mother soon began receiving bills associated with both the accident and her subsequent medical care afterwards. She contacted Mr. Bell, and he was able to ensure not only that her bills were all covered, but that she was awarded a substantial settlement. Our entire family is grateful for his hard work and continued support during an extraordinarily difficult time.

Peter Howard


10/06/2019

Mr. Bell and his team helped me when I was injured in a car accident in January of 2019. Everyone in the office is very professional, compassionate, and easy to communicate with. I was very pleased with my settlement and highly recommend this firm.

Lee Ann Shelton


10/02/2019

James A.H. Bell is the best! Mr. Bell represented me in a civil matter and was able to successfully close my case in three weeks. I am in awe as to the professionalism and hard work that Mr. Bell and his entire staff put forth when representing a client. As the sign in his office states "we may doze, but we never close." James A.H. Bell is an attorney you can count on!

Brandi Davis


8/29/2019

The James Bell Law Office is extremely professional and personable. Meeting with them and discussing my situation, my questions and concerns were answered and my mind was put at ease. I am very appreciative of their help and would highly recommend them.

Tammy Evans


6/27/2019

Jim Bell is a magician, he took a serious issue that i had and turned it into a dismissal. Not only is he a great lawyer, he's one of the smartest lawyers in the business. His staff is phenomenal, everyone in his office knows what they're doing, they keep you informed on your case, give you all the respect you deserve and are just great people to work with. I trust Jim and crew with everything....Ron Fleenor

ron fleenor


6/26/2019

Mr Bell is a great attorney. He treated my husband with respect and honesty. Would highly recommend him to anyone.

Tami Wilkins


6/22/2019

I first met Mr. Bell and hired him to represent me back in 1996. I have since used his services twice more through the years and have came out a winner all three times. He runs a top notch firm with an excellent support staff and is a man of great integrity. He will go to great lengths to fiercely defend his clients rights and make sure they are represented to the highest regard. If you need the BEST, don't fool around with any MIckey Mouse nonsense, head down to Emory Place and hire the BEST!

Stacey R. Maynard


6/22/2019

I first met Mr. Bell and hired him to represent me back in 1996. I have since used his services twice more through the years and have came out a winner all three times. He runs a top notch firm with an excellent support staff and is a man of great integrity. He will go to great lengths to fiercely defend his clients rights and make sure they are represented to the highest regard. If you need the BEST, don't fool around with any MIckey Mouse nonsense, head down to Emory Place and hire the BEST!

Stacey R. Maynard


6/22/2019

James A H Bell is the best lawyer hands down. I would recommend him to anyone that needs legal assistance. I was injured and a friend referred me to Mr. Bell. I have the upmost respect for Mr. Bell and his entire legal staff. Received top notch service and always felt welcome to his office by Mr Bell and entire staff. They provided the upmost expertise and legal knowledge. I would like to say thanks for a job well done, I don't think anyone could have done any better. Gerri

Gerri Galyon


5/10/2019

James Bell is a true gentleman. His team is highly efficient and professional. He laid out what would happen in my case and that is exactly what happened. His victory that he achieved for me made my millennium. He is best of the best and I would highly recommend him!

Customer Service


3/08/2019
Affirmation of Representation:
We believe that our hearts and legal minds are open to see and take advantage of opportunities to provide good and quality legal care for others during their difficulties with the civil or criminal legal system. We believe those opportunities comes though building meaningful relationships with the clients and their families, while reconstructing the legal lives over injuries, or arrests, or suits - all of which often threatens the integrity and peace of the client. We believe the caring, hope and joy of our representation, coupled with our caring and administrating during the legal process on behalf of the client, builds long lasting relationships.
We strive to help the clients survive the incidents which led to the client for coming to us. We have the experience; we have the skill; we have the technology; we have the desire to pursue the position of the client. Always. We try to bring the families of our client that are fracture over the litigation to come together in respect and love. We like to believe our experience is a legal partnership with the client, and that our work forever changes their future for the best. After all, it is always about the client, not of us.