Knoxville, TN Premier DUI Criminal Defense Attorney
Attorney Who Defends Clients Facing DUI and Criminal Charges Throughout Tennessee.
IMPORTANT SAFETY ANNOUNCEMENT
REGARDING PANDEMIC THREAT©
As it has always been, the safety and security of our clients remains our highest priority. We take great pride in maintaining the highest standards of cleanliness and hygiene. In response to the coronavirus, we have taken additional measures developed in consultation with public health authorities to make our cleaning and hygiene protocols even more rigorous. Our assistants are receiving ongoing briefings and enhanced operating protocols, the Cleaning Crew has increased the frequency of cleaning our public areas (including lobby, door handles, bathrooms, conference rooms, meeting rooms, library, etc.) and have continued the use of hospital-grade disinfectant. We have increased the availability of antibacterial hand sanitizers throughout the lobby, conference rooms and inner offices. We have crafted a path to provide assistance to our clients and visitors, and we are prepared to act swiftly should we be alerted to a case of coronavirus at our law firm. Continue reading..
Skilled Knoxville DUI Criminal Defense Attorney.
If you are under investigation by the police, or believe that you may be facing criminal charges, it is critical that you consult with an experienced Knoxville DUI criminal defense lawyer immediately.
Police officers are trained to use techniques to techniques to having you into voluntarily give up your valuable statutory and constitutional rights. For example, they might tell you to do field sobriety tests. These are voluntary and not compelled. Some police have been caught telling suspect lies; others have used ruses or subterfuge or trickery to get you to do or say something against your best interest.
Under no circumstances should you speak with law enforcement without an attorney. Don't do their work for them!  You should always contact a skilled Knoxville DUI criminal defense attorney immediately, so that measures can be taken to protect your constitutional and statutory rights and your freedom.
Remember Tennessee drunk driving laws are complicated, the penalties are severe. Don't trust your future to just any Tennessee DUI defense lawyer make sure you select the right DUI attorney that will fight for your rights and protect your future.
When Your in Need Of an Experienced Tennessee Criminal Defense Attorney Look No Further.
Mr. Bell is a veteran Tennessee criminal defense attorney and personal injury lawyer, having tried to verdict more than 1,000 contested cases. Over the course of those many contested trials, Mr. Bell has argued his client's position before Chancellors, Administrative Law Judges, Trial Judges (without jury) and citizen juries, on the local, state, federal, and appellate level.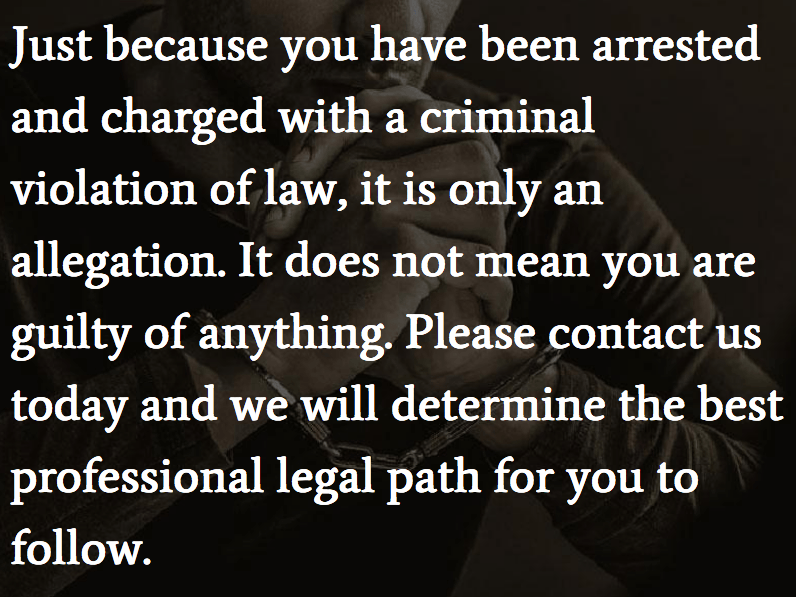 Do not put your future at the disposal of a state prosecutor or a police officer who has already made the decision to prosecute you. They may have overlooked your defense. They may have ignored evidence favorable to you. They may not know the rest of the story. They may not have properly tested the evidence, or preserved it. We are very experienced in getting this information out in front of your case to avoid legal calamities.
The experienced criminal defense attorneys at the Law Offices of James A.H. Bell, P.C.  know the law and will represent your interests in any situation:  from sex crimes to driving under the influence; from white collar crimes to drug possession.  The Law Offices of James A.H. Bel, P.C. handles federal crimes, sex crimes, and administrative licensing trials. If you have been accused of any crime, be it domestic violence, probation violation, burglary, or any other crime...we CAN help you.
We strive to be different from other criminal defense firms. Our top priority is to be there for you when you need us – 24 hours a day, 7 days a week.  If you or a family member are accused of a crime and/or are under police investigation, time is of the essence and every moment counts.  Our firm has a history of preventing criminal accusations from turning into formal charges by heading off the criminal investigations early.  While it does not happen in every case, we are often able to do this by moving quickly.

Experienced Dedicated DUI Criminal Defense Legal Team
Legal Crisis Resolution
At the Law Offices of James A.H. Bell, P.C. we have had a long and successful history of resolving legal crisis that suddenly develop without warning or notice. What is unexpected and catastrophic for you, is just as routine business day for us. There are not many situations that we have not successfully encountered. Let our vast experience contend with your legal problems.
In just the past few months, we've contended with a number of legal crisis on behalf of our clients. Here's just a few examples of some of the situations that we have resolved in the recent past on behalf of our clients:
The feds enter a business and search for computers and records and you are an executive employee of the business.
An automobile accident and you are suspected of vehicular homicide.
A seizure of your personal computer and the authorities believe there is child pornography located therein.
Finally, there is the "target" letter from an Assistant U.S. Attorney advising you that you are the subject matter of a federal investigation or law enforcement officers appear at your home or business wanting to question you about a criminal matter. No charges have been filed.
These are just a few examples of the situations that our clients have found themselves in and they all ask the same question: What in the world am I to do?!?!
The answer is simple and obvious: hire an experienced criminal defense trial lawyer before the charges are filed. It is inexpensive compared to the cost of a defense once charges are filed. Lawyers in our office have the communication skills and the assistance of a full time on staff investigator to resolve the matter by entering into discussions with the prosecution to induce them to decline the prosecution, or enter into a resolution that would be a less than what would occur if charges are filed. This latter resolution is called charge bargain.
Moreover, when the prosecution knows that you have hired a firm with a long history of trying cases, such as ours, they may reconsider their position. That factor may be the salient point in your favor to make the investigation "go away" or result in a very favorable resolution for the one being investigated.
knoville-dui-attorney-banner
Our attorneys are highly skilled and highly trained criminal defense team with an outstanding track record defending those that have been arrested and accused of DUI and other criminal charges both in Knoxville TN and thorough out Tennessee. With our skilled team of dedicated criminal defense lawyers we have personally represented thousands of clients charged with DUI and other criminal matters and we are well known for consistently obtaining extraordinary results for those accused of driving under the influence and other criminal charges.
Know The Attorney You Hire to Protect Your Future
Meet Our Experienced and Dedicated Team Of Professional's
If your in need of skilled legal council look no further call us today and schedule your free consultation 865-637-2900

Tennessee Personal Injury Lawyer, Knoxville Auto Accident Attorney and Accident Injury Law Firm in Knoxville, TN
The personal injury lawyers at the Law Offices of James A.H. Bell, P.C. are highly trained and experienced attorneys who will fight for for your rights. Regardless of whether you were involved in a minor car accident , or due to someone else's negligence has resulted in the passing of a family member, we know this is the biggest case of your life.
Our website provides clear-cut and valuable information so that you can be a intelligent consumer. Most important before you decide to talk to an insurance adjuster or sign any forms in your injury or wrongful death case you should consult with an experience personal injury lawyer. While browsing through our website, you will see that it is packed with answers to the most common questions based on 40 plus years of experience that we have been representing clients and their families that have been injured in accidents, just like you.
What some of our happy clients have to say.
I am so grateful for Jim's passion, dedication and professionalism. He truly is the BEST to work with. His amazing legal work he did on my behalf helped me through a challenging moment in my life. He worked tirelessly to ensure things worked in my favor. His legal expertise, limitless time, intense efforts, analytical skills and knowledge exceeded my expectations. I have known Jim for over 40 years and am blessed to call him my friend.

Brenda Humphrey


8/05/2021

James Bell is a magician attorney. His paralegal Cody Evans is also amazing. I had a very difficult legal and civil case including the board of nursing that I honestly thought I would end up in prison over. James (Jim) and Cody worked tirelessly for me to stay out of prison and to preserve my professional license. They treat you like you're they're most important case. They keep you in the loop continuously and you're never left guessing. Your longevity shouldn't be trusted with just anyone! Here you're VIP and priority! Hire them!

Kirsten Applegate


8/05/2021

Mr. Bell, Shame, Cody everyone behind the scenes thank you for your time and effort in my case. James Bell is worth every penny you pay, he isn't one of those sit on the side lines and cower like a puppy with its tail between its legs type Attorney. No!! He is a bulldog in court room and will speak up for you. At first I was worried after hiring a timid attorney who made me feel like I was doomed. Jim makes his presence known in the court room citing documents and photographs that his whole team works around the clock to fight for you! I have received respect and honesty the entire way through. Never did I feel like it were a guessing game of "when's my attorney going to update me" "are we still on" "did you forget about me". Contacting me was on point. When the worst came James Bell had my back and fought for me. Thank you again. And I would 110% recommend James A.H. Bell to anyone in need of an attorney. He will stand up to the court room bullies for you.

Matt Martin


8/04/2021

My local attorney provided me a list of lawyers who belong to the National Association of Criminal Defense Attorneys. When I picked Mr. Bell from the list based on his Lifetime Membership and credentials, little did I know I picked "The Man." Mr. Bell, Mr. Cooper, and Mrs. Hamblin have been attentive, compassionate, empathetic, and DRIVEN to work for this client. Living 580 miles away appeared to be a difficult distance to manage things. But They were "next door." If you're shopping for "The Man" to represent you, think twice about grabbing the phone number off of a billboard or a fancy advertisement. Choose wisely. Choose experience. Choose the Bell Team. You'll be writing the same google review as I am. And you'll also find out they work to WIN.

Pete Shearer


8/03/2021

When I first met with Mr. Bell I got the impression that he really didn't care about my case and was only in it for the cash. I am so glad I was wrong about him. I can be so pig headed and stubborn I couldn't see the whole picture. If it wasn't for Mr. Bell I would have been in big trouble. So if you are in need of a great attorney and a staff of incredible people (Cody and Shayne) then they are the ones for you, don't be like I was. Take their advise, they are there to help!!!!! Thank you Mr. Bell, Cody, and Shayne

Larry Erbaugh


6/04/2021

Mr. Bell and ALL of his staff are exceptional, caring, honest, and thorough professionals. Furthermore, Cody did an exceptional job bearing the brunt of my case and completed an exceptional amount of detailed research, correspondence, and coordination in my lengthy and difficult case with the board of nursing. I came to Mr. Bell and his staff after numerous, dedicated "nursing attorneys" practically refused my case, or suggested from the moment of our initial meetings. All of these attorneys who advertised themselves as "experienced with board of nursing matters" suggested that I practically take a plea because it would be impossible to prove my innocence and obtain a favorable outcome related to the complaint sent to the board that prompted and investigation, and eventual filing or formal charges by the board. To further complicate matters, these legal issues came to light less than a week before the COVID pandemic caused a widespread shutdown of the means necessary to complete the resolution of this case. Despite these complications, the Law Offices of James A.H. Bell pushed forward with my case in an innovative manner while refusing to accept unnecessary manipulation, evasive, and questionably ethical and moral attempts at manipulation by the board of nursing, as well as the large non-academic healthcare system in the Knoxville metropolitan region that initiated these accusations. From day one, Mr. Bell assured me that I had a solid case and that he would find a way to settle my case with a favorable outcome despite the slow turning wheels of justice specific to the board of nursing, that were practically brought to a halt under the restrictions of the pandemic. I was overcome with stress, panic, uncertainty, and fear from the start of this process, but Mr. Bell and his staff's understanding and desire to seek appropriate justice prevailed. In the end, this exceptional staff achieved a total and unrestricted dismissal of the inappropriate accusations and potentially associated restrictions that would have been unlawfully imposed upon me due to my innocence. The entire process was a nightmare, but the Law Offices Of James A.H. Bell were the glimpse of sunlight and hope needed in my case. It is without question that this exceptional team properly highlighted and conveyed my innocence. Their exceptional efforts and commitment undoubtedly saved my professional career, reputation, academic furthering of my career that was in progress at the time, and the unquestionable financial devastation that would have resulted from accepting the potential and inappropriate restrictions that would have been placed upon me by the health professions board. I would recommend the Law Offices Of James A.H. Bell, P.C. to any morally sound, and truly innocent healthcare professional that has to unfortunately face circumstances similar to those of my case. My only regret is that I did not reach out to this team, and retain their legal services sooner in my journey. The sense of comfort, understanding, hospitality, and empathy explained and evident in all interactions with this phenomenal firm was immense and there are not enough words to accurately describe the overall experience. Mr. Bell and Cody were even kind, hospitable, and down to earth enough to simply reach out to me and see how a terminally ill family member was doing. I cannot recommend the Law Offices of James A.H. Bell, P.C. with the amount of enthusiasm necessary due to word count restrictions in this post. Looking anywhere else in a situation similar to mine would be a disservice to yourself, your career, and for the justice necessary and deserving to hard-working and dedicated health care professionals. I would gladly describe the positivity of my experience to any potential client of these services at the referral and coordination by Mr. Bell.

Thomas Ryan


5/08/2021

Mr. James A.H. Bell Law firm settled three legal issues quickly. These legal issues were sensitive in nature, that would otherwise affect a 20 + year career. If I did not seek legal representation from this credible and community vested law firm, I would have had to forfeit my proprietary career.  I recommend this law firm.

Anonymous Client


2/26/2021

I can't say enough nice things about Mr. Bell and his entire team. They are truly amazing. They are friendly, honest, and treat you like family. I went to Mr. Bell in tears. Anything legal is scary. He took me by the hand and assured me everything was going to be ok. Mr. Bell took it upon himself to call me just to check on me because I had been so upset. I knew when he did that, the right choice had been made. I've never been through something so traumatizing and because of their sincere concern and professionalism I was able to have the assurance and peace I needed. I couldn't have gotten through the process without his receptionist, Lori, and his paralegal, Cody. When Mr. Bell looked me in the eye and told me I had nothing to worry about, he wasn't lying. Two weeks after meeting with him, he had everything taken care of and my nightmare was over.

Noelle Aytes


12/30/2020

James Bell is the absolute best. If he takes you on as his client he'll have your back no matter what,will fight for you until the very end and leaves no stone unturned. The most intelligent, persistent and thorough man I've ever met. He goes above and beyond to defend and protect how clients. He even stays on your butt after the case has been won to make sure you're doing good, he calls it the follow through!!!

Ashley Martin


12/17/2020

Legal troubles of any kind can be very scary. Finding an experienced attorney to represent you in your time of need can be overwhelming at the very least. I can honestly say that although my legal battles have been some of the worst of times; hiring James Bell and his associates proved to be the best decision I ever made. They took great interest in my case and handled every detail needed to ensure true justice was done on my behalf. Every time I met with Mr. Bell... I never knew if I was meeting with my therapist, my counselor, my teacher, or my attorney. He wore many "hats" and was very attentive and knowledgeable in all those areas. I never doubted that all was being handled in my best interest. I am the person I am today thanks to The Bell Law Firm and their belief in me. I will never be able to express my sincere gratitude for all their hard work that even these words can't suffice. I hope that anyone reading this will take it from me that James AH Bell and his associates will exceed any request you have for getting yourself justice. And isn't that the bottom line? Thank you Bell Law Firm..... for everything!! Sincerely, Susan Henry

Richard Smith


12/03/2020

Attorney Jim Bell and his staff are very professional and friendly. He listens to any concerns you may have and explains everything to you. No one backs him in a corner and he will not sell you out!!! Jim Bell works hard to win your case. He is a great person and attorney. I would highly recommend this law office.

Diane anderson


11/19/2020

Jim's the best around. He has the experience to know how to win your case, he's tenacious. He won't sell you out to cut a deal in another case, he has integrity. Shayne, his chief investigator, knows how to find the facts that will guarantee a win for you. Jim's staff is prompt and comforting when handling everything. You owe it to yourself, and your family, to hire a rock solid defense. Thanks to law office of James A.H. Bell, my life is back to normal.

Patrick Durham


11/07/2020

I was hit from behind on my motorcycle. Mr. Bell was able to deal with multiple lawyers/ insurance companies/ multiple vehicles involved, and get me a settlement that I considered fair. I would definitely hire this guy if you wanna win.

Brian Francis


10/24/2020

Mr.bell is a heck of a man it took a while which is going to happen in this pandemic but when it came down to it as he puts it a win is a win is a win doesn't matter by how much he went beyond with my case when no other lawyer didn't think I had a case I'd have this man come to bat for me anytime he called kept me informed on my opinions instead of just straight deciding his team was very thorough I highly recommend him he's very respectful and an amazing dude he has a great team thank y'all again for helping me and my family

GrubGaming


10/21/2020

Experienced staff who make you feel like family. They know what they're doing, and have the knowledge and connections that let you know you've made the right choice.

Joseph Staton


9/14/2020

Him and Cody were so helpful and knowledgeable. They are very quick to respond to any emails and made the court process so easy. Hands down the best lawyer in Knoxville.

Kayla Nettesheim


9/10/2020

Top notch attorney and legal team! Mr. Bell's office provided a very quick response when I first needed help and kept me updated throughout the process. I had a very serious legal matter that could have affected me the rest of my life in bad way. Mr. Bell got the issue resolved in my favor! Look at him as an investment in your freedom and future. Consult with Mr. Bell before talking to anyone about your case. I believe him to be the best attorney in the country!

Nobody


3/27/2020

Attorney James Bell was the best choice for handling our injury case. The insurance company did not realize the professional investigative legal work that Mr Bells law firm was able to discover and bring forth. From beginning to end our expectations were exceeded by the great work of Mr Bells staff. He won us an initial monetary award far beyond our expectations and thanks to their diligent work, we will continue to receive checks every month for ten years.

A Bell


3/13/2020

The Law Offices of James A.H. Bell handled a civil case involving a horrific wreck in KY caused by bad driving and inattention on the part of a commercial truck driver that totaled my car and injured my teenage daughter. The expertise and knowledge applied by the firm and the very professional handling of the negotiations resulted in a settlement that paid for my daughters full recovery, replacement of my vehicle, and a year of my daughters college costs. Our family was extremely satisfied with the outcome and attention to detail afforded to our case by the firm. After this experience, I consider the law offices of James A.H. Bell my primary provider of legal services. - Lucian Maxwell, Knoxville, TN

Dennis Miller


3/13/2020

If you need an Attorney, look no further than Mr. James Bell. He is the Best. The Best of the Best. If I could I would give him 10 stars. When I called him, he listened to every word I said. He got right on my case and called me back the very next day with my best options. I was overwhelmed with his professionalism, his quick response to my every call, and his calming words. He went above and beyond multiple times for me. As a company owner I have a hard time recommending almost anyone these days, but I would recommend Mr. Bell 1,000 times over. If you want the best Attorney that will fight for you, this is the man to call. There are no words to describe how thankful I am to him. Sincerely, Travis Young

Travis Young


3/09/2020

Mr. Bell and his associates are amazing at what they do. They were incredible throughout the entire process with us, and gave us the best outcome we could've hoped for! They were very accommodating with our circumstances, and Mr. Bell has the ability to put your mind at ease and make the best out of your situation. We can't thank them enough for everything they did for us! I highly recommend Mr. Bell and his office for any legal needs you have!

Leah Ray


2/18/2020

Hired Mr. Bell to represent my son against a false charge from his ex-wife. He told me not to worry that he was very good at his job and that he would work tirelessly to ensure that my son was cleared and he kept his word. Now all charges are dropped, his name is cleared, and it was well worth every penny. I would recommend Mr. Bell to any one in need.

charles ray


2/18/2020

Mr. Bell and his entire team treated me like family. We all have situations we need extra help with, and Mr Bell puts you at ease, makes you feel at home and at ease, and quickly gets the job done with a positive outcome. As a huge bonus, either Mr. Bell or his paralegal, Cody were always available to talk with me or return emails. If you need any legal assistance in East Tennessee, Mr Bell should be your only call. He is well experienced, very well connected, and has a history of winning. I cannot day enough about my positive experience with Mr. Bell and his team-they were a blessing to me during a challenging time.

Heather Wheelock


2/10/2020

I've been dealing with the James Bell Law Office for nearly a decade & I just can't say enough about how great he & everyone on his team is. Truly amazing people. Friendly, honest, & knowledgeable to an incredible degree. They will fight for you relentlessly & they always go above & beyond to make you feel comfortable, confident, & well informed every step of the way. I wouldn't even consider hiring any other attorney from any other firm.

D. Mason Moore


2/08/2020

I will be forever grateful to this whole law firm. And what they did for me didn't cost me a dime. They calmed me. They treated me like family. I got some of the best damned advice I've ever gotten. I won't ever even think about hiring another lawyer other than Mr. Bell and his team.

Brandy Stills


2/05/2020

Did everything I asked and more, best lawyer around. Mr. Bell and his awesome team do everything they can in order to get the best results.

Hayden Clayton


1/03/2020

Everyone at this firm is so hopeful and incredibly nice. Attorney Jacob Feurer, whom I worked with went well above and beyond. Very clean, precise, intricate, and professional man who did everything in his power to win my case. We won, And he took every step necessary to make it nice and smooth for both parties. I would highly recommend this office. Jim has an incredible staff, Sam whom works from desk is super sweet and helpful. James (Jim) himself is a very kind man who truly wants the best outcome for his clients. He told me to trust his team, and that I was in good hands. Little did I know I was in hands of some incredible people. The office manager Lori, is the sweetest person you could ever meet. She cares about clients in a respectful way that makes you just feel welcomed. I highly This office to anyone! I promise you won't regret your decisions about picking this firm. They get the job done accurately & In an amicable way!

Britny Jenkins


12/09/2019

Another review called Mr. Bell a magician, and with that I have to agree — though I am sure he would just call it doing his job. And that is what separates him from other attorneys; he ACTUALLY does his job. To say that Mr. Bell goes above and beyond is still an understatement. I had a few charges against me and within no time it was like nothing ever happened. Mr. Bell makes a courtroom feel like your living room with how comfortable he makes you. Upon meeting him you can just feel that he is a genuinely good man who wants the best for you, and such an attitude trickles down to his staff. Give Lori, Sam, or anyone else a call and you will swear you are conversing with a longtime friend. No one person should go unrepresented in court with this law firm in existence.

Tee


12/03/2019

I met Mr. Bell and his defense team in 2017 and hired him to defend me in an extremely complex white collar case. Mr. Bell, his staff, and other members of the defense team involved with my case were very extremely professional and compassionate through out the entire process. The legal process was very complex and something I had no experience with. Mr. Bell and his team made everything much easier to understand and were always willing to answer my questions at any time. My outcome on the case was much better than I could ever hoped for. I will be forever thankful.

Barbara Butler


11/15/2019

James and his excellent staff can't be beat. James is not only very competent and friendly but really knows how to negotiate with his peers in the local law profession. I am indebted to him for a job well done. Highly recommend him and his awesome crew ! -W. Garrett

songwrecrd .


11/13/2019
Affirmation of Representation:
We believe that our hearts and legal minds are open to see and take advantage of opportunities to provide good and quality legal care for others during their difficulties with the civil or criminal legal system. We believe those opportunities comes though building meaningful relationships with the clients and their families, while reconstructing the legal lives over injuries, or arrests, or suits - all of which often threatens the integrity and peace of the client. We believe the caring, hope and joy of our representation, coupled with our caring and administrating during the legal process on behalf of the client, builds long lasting relationships.
We strive to help the clients survive the incidents which led to the client for coming to us. We have the experience; we have the skill; we have the technology; we have the desire to pursue the position of the client. Always. We try to bring the families of our client that are fracture over the litigation to come together in respect and love. We like to believe our experience is a legal partnership with the client, and that our work forever changes their future for the best. After all, it is always about the client, not of us.